Chicken Pepper Penne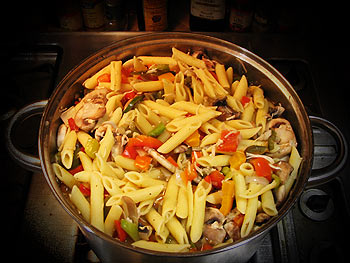 After eating a delightfully spicy pasta dish at a local Italian restaurant, I was inspired to create my own take on the dish, using many of the same ingredients. The result is something I feel is entirely different and great for those cold, wintery nights or for any other excuse to eat something spicy. The key to the success of this dish is the correct ratio of jalapeños and ground pepper to the rest of the ingredients. I usually eyeball these measurements, but the recipe below is accurate for my palate. If you don't like spicy food, this dish may not be for you, or you may want to curb the amount of jalapeños and pepper.
Ingredients
1 large yellow or Vidalia onion, chopped
3-4 red, yellow, orange or green bell peppers, chopped
2 cups of fresh sliced mushrooms
2-3 cloves of garlic, minced
2 tablespoons of olive oil
4-5 cans of chicken broth
1-2 large cans of chicken breast meat
1 fresh jalapeño pepper, sliced
3/4 cup of sliced jalapeños FROM A JAR.
16-oz box of penne pasta
3/4 to 1 tablespoon of ground pepper (a lot of pepper, but this is chicken

pepper

penne, after all).
3-4 teaspoons of salt (or salt to taste)


Directions
Bring 4 to 5 quarts of water to boil in a large stock pot. Add some salt to the pasta water. You'll be adding the pasta once it comes to a boil, but proceed to step 2 while you're waiting.
In large saucepan, saute onion, peppers, garlic in olive oil until onion is translucent.
Add jalapeño peppers, chicken and ground pepper to saucepan.
Place fresh mushrooms in a large colander and rinse. Leave mushrooms in colander.
When water has come to a boil, add pasta and cook 12 minutes.
Drain pasta into colander with mushrooms.
Return drained pasta and mushrooms to stock pot.
Add your sauteed mixture to your pasta, along with the chicken broth and all remaining incredients. Stir well and heat to boil.
Test taste broth. It should have notable spiciness without being overwhelming. If it's too spicy, add more chicken broth. Salt to taste.
Let set for a 5-10 minutes before serving.
If you need to take the edge off the spiciness, serve this meal with a beverage best suited to quell spicy food, like milk. If you need more spiciness, try adding additional ground pepper or a fresh jalapeño. Makes 5 servings.
This recipe is especially good served after it's been re-heated the following day! The spicy chicken broth is excellent for clearing those nasal passages during flu season.