Ma Po Tofu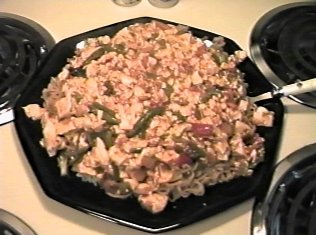 Tofu. I've eaten a lot of it over the years, even now that I've returned to my carnivorous ways.
The "recipe" below was a weekly staple of mine, long after I had stopped my year-long experiment as a vegetarian.
1 16-oz tub soft tofu, drained and sliced into 1-inch cubes
1/2 lb. frozen "oriental-style" vegetables
1-1/2 cups of cooked white rice
1 3/4-ounce packet of Sunbird brand spicy sczechuan sauce mix
1 tablespoon of Lee Kum Kee brand Chili Bean Sauce
1/2 tablespoon of honey
3 tablespoons of Kikkoman soy sauce

Place rice and 3 cups water in microwaveable dish and cook in microwave on high heat for 13 minutes.
While rice is cooking, place frozen vegetables in a wok or large saucepan with two cups of water and bring to a boil.
In a small bowl, combine sauce mix, soy sauce, honey, chili sauce and 1/4 cup of water. Blend until smooth.
Drain water from vegetables and add tofu and sauce. Cook an additional 3-5 minutes under medium heat.
Top tofu mixture over rice. Makes about three servings, but I'm a fat-ass and eat all of them.
Nothing to it. The hard part is finding the spicy bean sauce. Fortunately, my area offers a variety of Asian food markets; however, Lee Kum Kee and Sunbird are fairly popular "ethnic" brands of sauces that shouldn't be too difficult to locate in the oriental section of any supermarket.